Note: this is not the actual book cover, it's only the cover for the uncorrected proof
Wow, this book. I have to admit, I wasn't expecting much from it, and even when I read it halfway I already expected to give it an average rating. But then after one point, the book and the writing just gripped me and just surprised me with how beautiful it really is. I am rating this book 4.6 out of 5! I also read it in about 12 hours. Thank you so much to Penguin Books Malaysia for sending me a copy.
Synopsis from Goodreads:
We are seventeen and shattered and still dancing. We have messy, throbbing hearts, and we are stronger than anyone could ever know…


Jonah never thought a girl like Vivi would come along.




Vivi didn't know Jonah would light up her world.




Neither of them expected a summer like this…a summer that would rewrite their futures.




In an unflinching story about new love, old wounds, and forces beyond our control, two teens find that when you collide with the right person at just the right time, it will change you forever.
The plot The plot was fairly simple and familiar to other YA contemporary books, to be honest. It's about a boy with a tragic loss in his family, and a girl with a mental illness. When i realised it was a book about mental illness, i became doubtful that i was going to enjoy it very much. I've had experience reading books with this theme and didn't like it much. This one felt different.
This book is definitely more driven by the characters and the writing, which executes great emotion that makes the book great. I do have to mention that i love how the book ended. I didn't really expect it (not sure what i did expect anyway), but it didn't seem that cliche and it was quite...inspiring, in a way. The characters The characters are so, so great! We have Jonah, who's totally boyfriend material because he's the sweetest brother and son and has a wonderful passion for cooking (all the description of food makes my mouth water). I love how his character develops in this book. He's a person with so much on his shoulders till he expects people to run away the instant they realise how messed up his family is. He loves his family so, so much but he's also a human being with limits, and I absolutely love his imperfections in this book. There were some moments with Jonah that were really emotional and my heart felt it for him. I was nearly in tears.
We also have Vivi, a care-free girl with so much love to offer the world, but a girl with her own secrets and dark demons inside. Vivi has bipolar disorder. Reading about this disorder from Vivi's perspective was really intriguing. There were moments when i found her very relatable too, though probably not up to her level of things. She was a little annoying at first with being overly positive and way too carefree and adventurous. I realised later that it might have been part of the disorder. But in the end, i came to love the way she is anyway. I love how she doesn't do things for other people, that she does it because she wants to. And i love how she stands her ground when people try to tell her what to do. I love what she did in the end.
There were other really great characters too, like Jonah's family and his friend Ellie and Vivi's mum. A huge part of this book revolved around family and holding things together for the people you love. What started off as a love story turned into something much, much deeper.
The writing
Here's the part where the book deserves the most praise. The writing was just spectacular. It did feel a bit off at first to be honest, but it was probably because i was reading an uncorrected proof and the actual copy would probably fix the minor stuff. After a while, the writing felt less awkward and just became beautiful. What was so beautiful?
The way the author tried to describe depression, and hope, and love. I was amazed. She used metaphors that normal people could totally relate to and understand, and that's how i managed to begin to understand the actual message the author was trying to get across. She chose simple metaphors, like going on rollercoasters and imagining past lives and stuff like that. A lot of books these days try to be so deep and things that i end up not appreciating what they author is really trying to portray. For things like depression, where it's not something i can easily relate to, it's difficult to understand it. Although i still don't fully get it, i love the author's attempts in trying to explain it to people like me. And i think i understand it a bit more now, and i can empathize more. The book gave a great insight for depression as well.
I also love the general way Emery Lord writes. The minds of the characters were so interesting, especially from Vivi's point of view. I found myself itching to tweet a lot of parts of the book.
--
This book reminded me of 3 specific titles i've read: 1) All The Bright Places 2) Papertowns 3) My Life Next Door. It basically is a mashup of all these three, and it was annoying at first because it felt like I've read a book just like it before. But it turned out becoming its own wonder. If you enjoyed any of the books i mentioned, i think you might enjoy this. I didn't enjoy ATBP very much because it was so deep to the point that I couldn't appreciate it, and it made me feel down and depressed at the end. When We Collided is different. It ends with hope and positivity and warmth and i love it. I wanted to reread it immediately after i finished, so that i could mark the pages with all the cute and emotional and clever parts.
GO READ THIS BOOK. There's not much hype around it yet because it's still new, but i think it deserves a lot of love.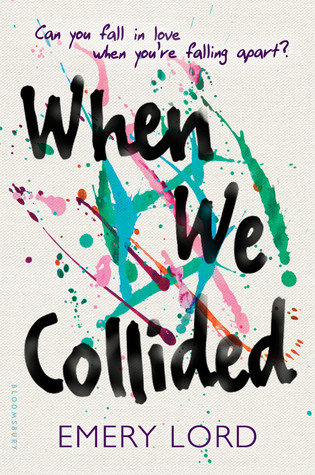 Actual cover. Isn't it gorgeous? I'm buying one.