I received an advanced reader's copy, so the cover hadn't been finalized.
Considering that i gave up on reading The Book Thief, The Passion of Dolssa would technically be the first Historical Fiction novel i've finished. It's also considered as Young Adult, but it totally didn't have the typical YA storyline and characters. I really enjoyed this, and i'm rating it 4.5 stars! It's a very new book, only recently published last month. It absolutely warmed me up to read more Historical Fiction!
Synopsis from Goodreads:
I must write this account, and when I have finished, I will burn it.


Buried deep within the archives of a convent in medieval France is an untold story of love, loss, and wonder and the two girls at the heart of it all.




Dolssa is an upper-crust city girl with a secret lover and an uncanny gift. Branded a heretic, she's on the run from the friar who condemned her mother to death by fire, and wants Dolssa executed, too.




Botille is a matchmaker and a tavern-keeper, struggling to keep herself and her sisters on the right side of the law in their seaside town of Bajas.




When their lives collide by a dark riverside, Botille rescues a dying Dolssa and conceals her in the tavern, where an unlikely friendship blooms. Aided by her sisters and Symo, her surly but loyal neighbor, Botille nurses Dolssa back to health and hides her from her pursuers. But all of Botille's tricks, tales, and cleverness can't protect them forever, and when the full wrath of the Church bears down upon Bajas, Dolssa's passion and Botille's good intentions could destroy the entire village.
The Writing
The Passion of Dolssa is set in the thirteenth century in France. Learning about the culture and norms during this period in history was absolutely fascinating. Because i've read a lot of high fantasy books, it sort of did have a similar vibe. The only difference is that the rich world-building in The Passion of Dolssa is based on real history and in our real world, which makes it even more interesting to know that once upon a time, the people really had lived the way the author had described in the book. I'm honestly not that informed about Christianity during those times, so it was terrifying to find out about the whole idea of the Catholic Church burning heretics and the extent of how far they were willing to go to hunt them down and even punish those they influenced. It was very believable.
Not to mention, Julie Berry had even included foreign words and terms from an old language that had really been spoken there. This had been confusing at first, but thank goodness i noticed that there was a glossary section at the end of the book that i could refer to. It didn't take long for me to get used to most of the terms, and i have to say, it really did make the story more believable rather than just having everything in English.
I also quite enjoyed Julie Berry's style of writing. I don't know why, but i expected historical fiction novels to sort of have more formal writing style, which made me a bit nervous and intimidated to pick this one up. To my pleasure, the writing was very easy to follow, and was somewhat elegant. I also really appreciated the author's note at the end of the book explaining(with references) about how things had worked during that century.
Instead of only telling the story from one character's point of view, there had also been several chapters from the side characters' POV, and even chapters of testimonies from witnesses being questioned. These really helped make some of the events seem less sudden, and adds more perspective for the readers. Also, for the first time ever, i came across a chapter from the author's point of view. I thought it was the end of the book and that it was like an acknowledgment or something. However, after seeing that the chapter after that one had been of a character that was still in the story, i got a little confused with what's real and what's fiction, and it blew my mind away.
The Characters
The best thing about this book had definitely been the relationship between the characters. We have Botille and her sisters, who have one of the most wonderful sisterly bonds i've ever read. It was heartwarming to read about how much they cared for each other, and even more entertaining that each sister had their own unique personality and role in the family.
I had expected for Dolssa to be the main character, since her name was in the title of the book. It turns out that Botille is the main character, narrating most of the story. I absolutely love her character! I didn't really like Dolssa, but it was hard to not care for her when other characters did so deeply. I also love Plazensa and Sazia and even Symo.
The Plot
The story was quite slow to be honest, but not at all in a bad way. The pace was enough to keep me interested to know more of what was going to happen. I was prepared to rate it 4 stars until i read the last third of the book. So much happened in that last third, and it was so intense! I totally did not expect any of it to happen, and that was when i realised that one of the reasons i love this book was because it was very different from the usual YA books i was used to reading. Happily ever after? Forget it. Cutesy romance? Not here. You know how in YA series or novels at the end it sort of ends happily, and it makes us think that everything stays okay? This one goes beyond that final sentence. It's amazing and realistic and tragic.
If i have any critic for this book, it would probably only be that i didn't like much of the idea of Dolssa being able to communicate directly with Jesus. It's just a bit hard to grasp that to be realistic, even though it played a huge part in the story, acting out as "miracles". But everything else was great.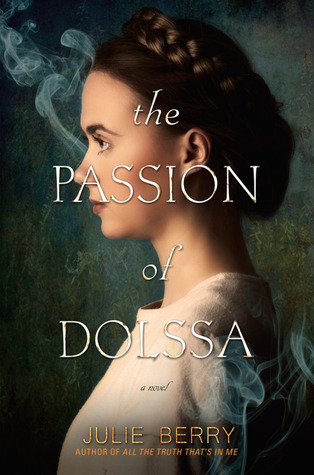 The cover for The Passion of Dolssa
I would recommend this book to anybody who wants to start reading historical fiction books, especially if you're used to reading Young Adult. Although this one is YA, it didn't exactly feel like one because of the circumstances that the characters were in, so i think non-YA-lovers would also enjoy it. It has a lot of emotional depth and i did get teary at several parts at the end. I would definitely want to read the other books written by Julie Berry.